The magnificent Goldcity Sport Complex is located 3 minutes drive to the North East of the Hotel. It extends to an area of 111.714 sqm. and is etched into the Taurus Mountains with spectacular views to the sea. Football pitches for professional teams, basketball, volleyball, tennis courts, running tracks, cable ski, horse riding, fishing, artificial lakes and sports bar are all available at the Goldcity Sport Complex.
The football pitches are only for professional football teams.
The football pitches were designed according to international and UEFA specifications and are laid with "natural English grass".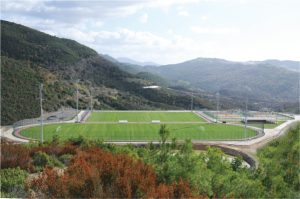 FIELD 1: STANDARD SIZE FOOTBALL FIELD
Inner Line: 70 m /105 m Outer Line: 73 m / 108 m natural
Grass :Grass frames are 10 cm width.
Training and Running Track:
Tartan mosaic with width: 3 m, length: 390 m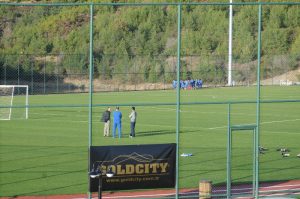 FIELD 2: INTERNATIONAL SIZE FOOTBALL FIELD
Inner Line: 70 m /128 m Outer Line: 73 m / 120 m natural
Grass :Grass frames are 10 cm width.
Training and Running Track:
Tartan mosaic with width: 3 m, length: 460 m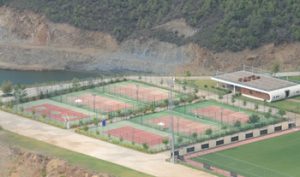 TENNIS COURTS
4Tennis Courts, artificial grass covered, 18*36 size
2 Tennis Courts, acrylic based hard ground, 18*36 sizes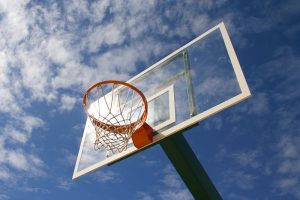 OPEN BASKETBALL FIELD
Surrounded by fence, acrylic hard grounded, professional lighting,
glass made baskets, 18*36 sized standard fields.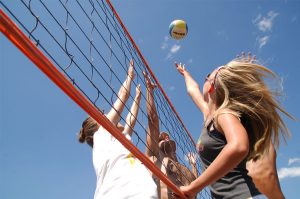 OPEN VOLLEYBALL FIELDS
Acrylic based ground, surrounded by fence, professional lighting,
18*36 sized standard volleyball field.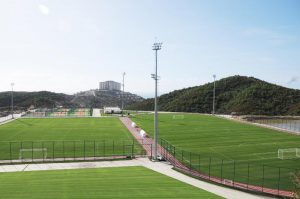 SPRINKLING SYSTEM
Long distance high-pressure sprinklers ensure our mountainside sports facilities are kept well hydrated.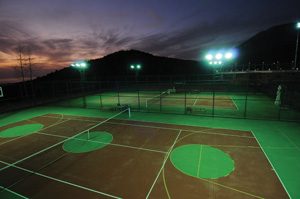 LIGHTING
Extend your day – our professional lighting system enables our sports facilities to be used after dark.

TRAINING - RUNNING/JOGGING TRACK
The running lanes are on the outer perimeter of the football pitch.
The track is 3 m wide (starting from outer rim) and 390 m long.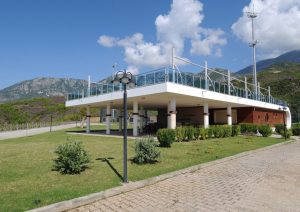 CLUB BUILDING
The club building has changing rooms for men and women.
There is a reception, kiosk to buy sport utilities, first aid room and our sports bar/restaurant.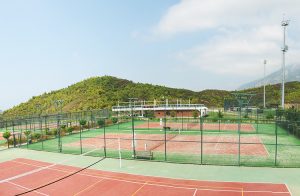 SPORTS BAR/RESTAURANT
Our sports bar/restaurant is the ideal place to relax and enjoy this tranquil atmosphere and wonderful views. It has indoor and outdoor areas and serves delicious light meals and specialties. Private dining for sports groups can be arranged.

TREKKING
Fill your lungs with oxygen whilst walking around the hills of Taurus Mountains with all of their natural beauty.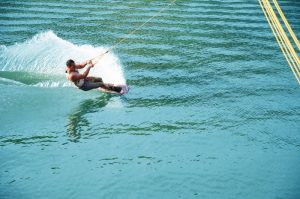 GOLD CABLE PARK
The Gold Cable Park which is located in Goldcity Tourism Complex, is 18 km far from Alanya, 26 km far from Gazipasha Airport and 138 km far from Antalya International Airport. You can raise your adrenaline and feel freedom with skiing on the water in 12 months of the year and you can enjoy the sun for 9 months of the year while skiing in our park. You can ski on a 420 meters long and 12 meters height lake K-1 and with you can act awesome skills on two small and big ramps with a funbox and a slider. But don't forget! It is required to have basic training on 80 meters long K-2 beginner racecourse.

---