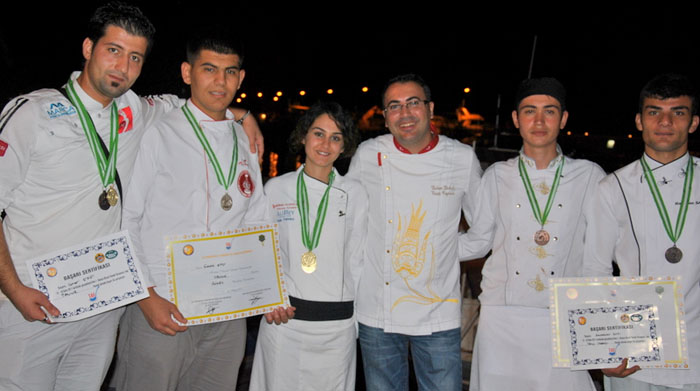 Our Chefs were Awared with Medals!
The 1st Golden Ladle local cuisine competition which was co-organised by Alanya Municipality and the Golden Ladle Tourism and Chefs Association has been completed.
This competition which includes 14 categories was held on the 15th and 16th of October Saturday and Sunday. The 15th President of the Entire Chefs Federation (TAF) also participated in this competition that was run under the World Association of Chefs (WACS) . Many members of the Turkish National Chefs Team also attended this competition which had a large participation of star Chefs.
Our chefs at Goldcity and Gold Island hotels returned with medals. We congratulate our chefs who were awared with medals in this prestigious competition.
DEGREES:
ESIN YILMAZ
Chicken Dishes- Gold Medal
Sweet Dishes – Gold Medal
MEHMET TUNÇ
Fish Dishes – Gold Medal
Lamb Dishes – Bronze Medal
SONER EFE
Chicken Dishes – Silver Medal